There are students who often are not able to differentiate between the Civil and Criminal court. But today through this article we will let you know about the hierarchy of criminal and civil court and powers of criminal court for your better understanding.
Below is Hierarchy of civil and criminal court: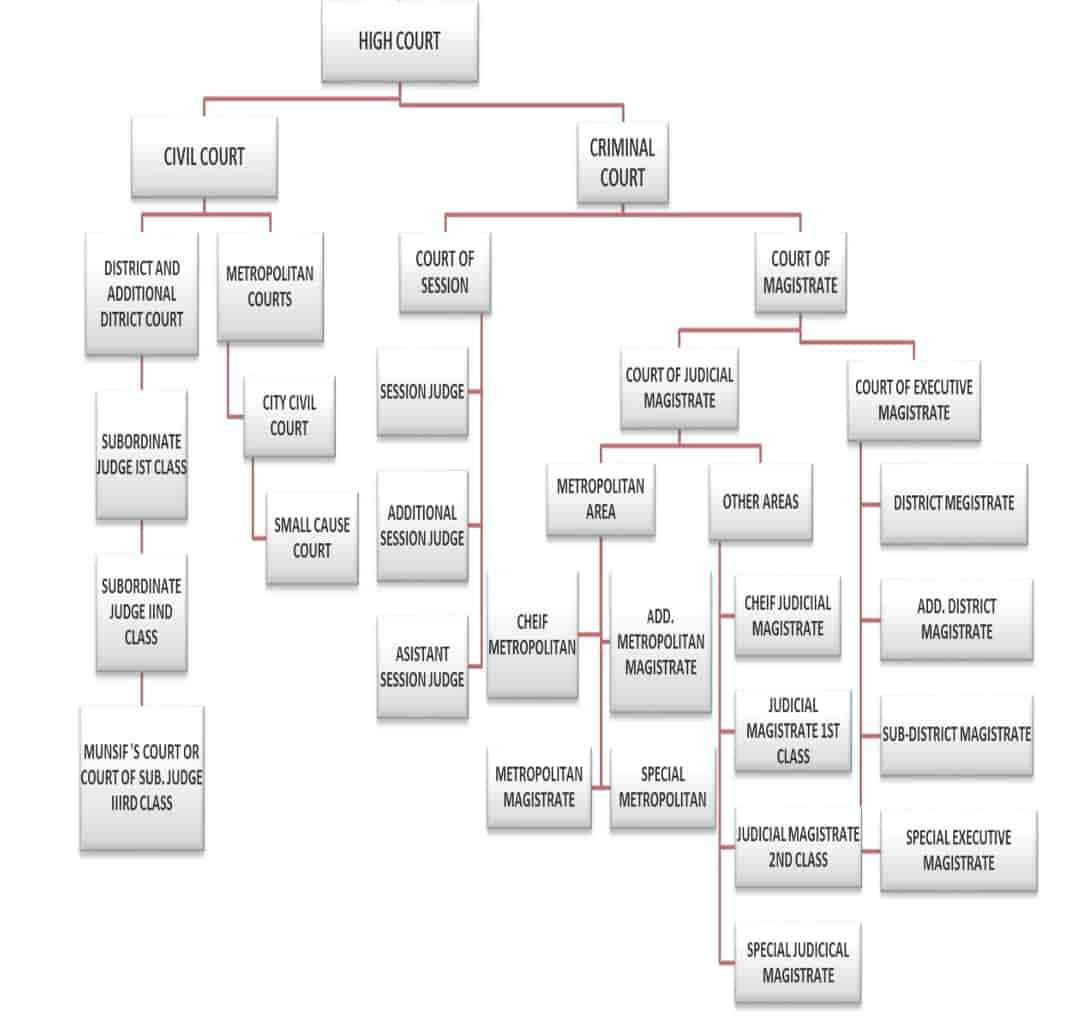 From the above flowchart you must be wondering why supreme court is not been inserted as it is the Highest judicial authority, but remember that Supreme Court is not a criminal Court it is not been expressly specified in any legal books but from Crpc (Code of Criminal procedure) Act which specifies the hierarchy of Criminal Court in India doesn't include Supreme court (Section 6 of the Act).
Now, you must be wondering the reason that why Supreme Court is not a Criminal Court as Supreme court is an Appellate court where only if there involves a question of law or infringement of Fundamental Right of an accused only then the aggrieved person has a locus standi before the Supreme Court.
###Powers of Criminal Court
Under the powers of the criminal court we will understand the extent of penalty and fine which can be provided by these court.
But before discussing the power of the criminal court remember that the section 6 of the Code of criminal procedure talks about the various classes of criminal court which are:
High Court

Court of Session

Judicial Magistrate 1st class

Metropolitan Magistrates

Judicial Magistrate second Class

Executive Magistrates
Powers of the Criminal Courts are provided under section 28 and 29 of the Code of Criminal Procedure, 1973:
Section 28: Sentences which High Courts and sessions court may pass:
• High court- Any sentence and any fine.
• Court of sessions includes Sessions Judge and Additional Sessions Judge who have power to pass any sentence but death penalty only after confirmation by High Court u/s 368 of crpc and any sentence.
• Court of sessions also includes Assistant Sessions Judge who have power to provide imprisonment for term upto 10yrs and any fine.
Section 29: Sentences which Magistrate may pass:
• Chief Judicial Magistrate- Imprisonment upto 7 years and any fine. Note: Chief Metropolitan Magistrate also have the same power as that of the Chief Judicial magistrate.
• Judicial Magistrate First Class- Imprisonment upto 3 years and fine upto 10 thousand.
• Judicial Magistrate of Second class- Imprisonment upto 1 year and fine upto 5 thousand.
Trending Courses:
Certificate Course in Labour Laws
Certificate Course in Drafting of Pleadings
Certificate Programme in Train The Trainer (TTT) PoSH
Certificate course in Contract Drafting
Certificate Course in HRM (Human Resource Management)
Online Certificate course on RTI (English/हिंदी)
Guide to setup Startup in India