Upcoming Webinars
"Webinar on essentials of patent drafting" by Ms. Rajeshwari Hariharan
Date: 18th July 2021, 3PM-5PM IST
Fees: Rs. ̶9̶9̶9̶ ̶ 499 {Early Bird Discount}
Certificate: ILMS Academy participation certificate sample here
Sponsored by COMPANY360 Private Limited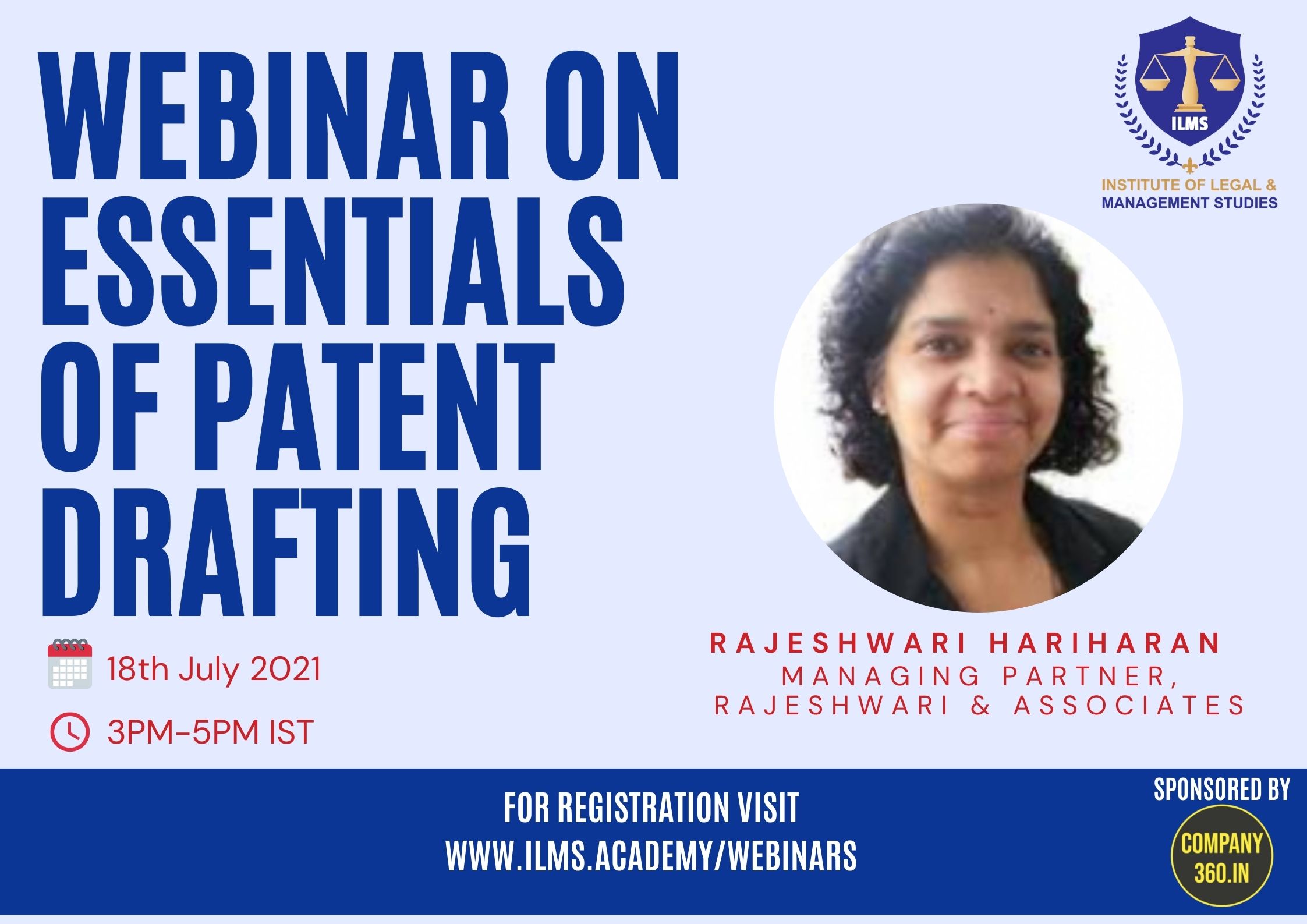 (ILMS Academy participation certificate for anyone attending the webinar sample here )
Ms. Rajeshwari Hariharan is the founder of Rajeshwari & Associates, a full service law firm based at New Delhi (India), specializing in the field of Intellectual Property including Patents & Designs, Trade Mark, Copyright, Plant Variety Registration, Geographical Indicators, besides other regulatory and allied areas.
Ms. Rajeshwari handled the revocation of the Basmati patent which was granted to Ricetec a company in the United States. She worked hard to find prior art and then after a long and arduous battle the patent was revoked by the USPTO. On similar lines, the turmeric patent was also revoked.
She also added another feather in her cap by winning the prestigious case of first ever compulsory license granted in India and representing Indian companies in the Novartis V Union of India case, which has been widely reported in the media.
Ms. Rajeshwari also dealt with the Glivec case, which for the first time interpreted section 3(d) of the Patents Act 1970 so as to prevent evergreening of patents. With over 25 years' experience in legal practice, Ms. Rajeshwari's areas of practice include counselling on issues relating to patent and infringement including rendering patentability opinions, drafting technology transfer and know-how agreements, licences, assignments; prosecution of patent applications in the field of pharmaceuticals, biotechnology and biochemistry.
Besides authoring several articles, Ms. Rajeshwari is regularly invited to present papers and speak at various conferences and seminars in India and Abroad. Moreover, she has been rated by Chambers and Partners and Intellectual Asset Management magazine as one of the leading patent lawyers in the country.
ILMS Academy once again thanks Ms. Rajeshwari for taking her time out to impart valuable knowledge to our students and associates.

"Drafting is seasoned craft; let's learn it from the best artist"
WEBINAR OUTLINE:
Introduction to Patent Application and Patent drafting?
How to detect novelty in Invention?
How to study novel features in light of existing Prior arts?
How to highlight novel features in drafting?
How drafting impacts the success of patent grant?
Basic explanation to claim drafting.
How to construct independent claim?
How to claim product and process together in single patent application?
Mode: Online
Date: 18th July 2021, 3PM-5PM IST
Fees: Rs.999
Sponsored by Company360 Private Limited